/
/
A Museum that Never Closes
A Museum that Never Closes
The American Revolution Institute Launches Museum Collections Database Online
June 11, 2020
FOR IMMEDIATE RELEASE
Today the American Revolution Institute of the Society of the Cincinnati launched its museum collections database online, providing access to some of its most important and iconic objects.
The Institute's museum collections document the nature and conduct of the Revolutionary War, the lives of the soldiers and sailors who fought it, and the enduring influence of the American Revolution. More than five hundred paintings, sculptures, weapons, medals, ceramics, textiles, and other historic artifacts are now available online at https://www.americanrevolutioninstitute.org/museum-database/.
"In the last few years, many of the world's great museums have put their collections online, sharing their treasures with the public in a way their founders never imagined. This week we joined them," Jack Warren, the Institute's executive director, said. "This didn't happen overnight. Our team has been working on building, cataloging, and photographing our collections for more than fifteen years. Collections Manager Sabine Fisher and Curator Emily Parsons have taken advantage of the opportunity presented by our shift to remote work to focus on making our museum collections available to everyone."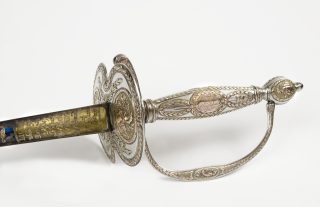 Among the treasures in the database are two of the fifteen presentation swords awarded by Congress to Revolutionary War heroes, a pair of epaulets worn by Alexander Hamilton, a watercolor portrait miniature of Sir Henry Clinton painted in New York by John Ramage while Clinton served as commander in chief of the British army, examples of the French Charleville and British Brown Bess muskets that were the workhorses of Revolutionary War battlefields, and daguerreotypes of aging Revolutionary War veterans who lived into the age of photography. The database also features the complete collection of Society of the Cincinnati Eagle insignias, the iconic badge designed in 1783 by Pierre L'Enfant, including the jewel-encrusted Diamond Eagle presented by French naval officers to George Washington, the Society's first president general.
The robust, searchable database includes high-resolution images and descriptions of these important artifacts. More objects will be added each week from the more than four thousand that make up the Institute's museum collections.