/
Battlefield Tour Series
Battlefields serve as both important memorials and vital resources for understanding and appreciating the past. In 2022, the American Revolution Institute launched a new tour series to explore our nation's Revolutionary War battlefields. Each of our two-day battlefield tour experiences consists of a dinner and lecture given by a scholar on a subject related to the featured battlefields and is accompanied by an in-depth guided tour led by an expert.
Our Next Battlefield Tour

The Battle of Monmouth, New Jersey
September 15-16, 2023
Save the date to join us in New Jersey on September 15-16, as we explore the the Battle of Monmouth. Using Morristown, N.J., as our base of operations, this two-day experience will feature a Friday evening dinner and lecture at the Hyatt Regency in Morristown, N.J., given by award-winning historian Ricardo A. Herrera of the U.S. Army War College, Carlisle Barracks, discussing the events that led to the battle, and a guided tour of Monmouth battlefield on Saturday that will examine the various events that transpired on June 28, 1778.
Information surrounding this tour is currently being finalized and will be made available soon. To receive updates about the tour, please consider signing up for our mailing list!
View A Full Itinerary and Additional Information
---
Future Battlefield Tours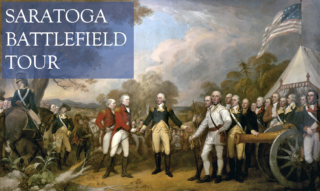 The Battle of Saratoga, New York
Spring 2024
---
Our Past Battlefield Tours
Yorktown, Virginia
June 2023
Kings Mountain and Cowpens, South Carolina
December 2022
Brandywine, Pennsylvania
May 2022
---
For additional information about our battlefield tour series, contact:
Andrew Outten
Historical Programs Manager
aoutten@societyofthecincinnati.org
202.785.2040 x421