/
Exhibitions at Other Institutions
The enduring importance of the American Revolution is demonstrated by the rich array of materials from the Revolution on display in changing exhibitions at museums, libraries and other cultural institutions across the country.  We encourage you to seek them out.
---
Beyond Midnight: Paul Revere
Concord Museum and Worcester Art Museum – Concord, Mass., and Worcester, Mass.
February 14 – June 7, 2020
The patriot, silversmith and entrepreneur Paul Revere was forever immortalized in Henry Wadsworth Longfellow's 1861 poem, "Paul Revere's Ride," but his genuine accomplishments are often eclipsed by the legend of the midnight journey. This traveling exhibition, organized by the American Antiquarian Society, features more than 150 objects and re-examines Revere's life, transforming visitors' understanding of the innovative businessman through an in-depth exploration of his accomplishments as a silversmith, printmaker and pioneering copper manufacturer. During this period, the exhibition will be divided between and displayed simultaneously at the Concord Museum and the Worcester Art Museum.
Visit the Concord Museum website >
Visit the Worcester Art Museum website >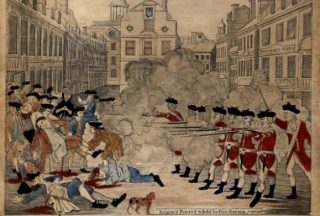 ---
Cost of Revolution: The Life and Death of an Irish Soldier
Museum of the American Revolution – Philadelphia, Pa.
September 28, 2019 – March 17, 2020
Follow the untold story of Irish soldier and artist Richard St. George, whose personal trauma and untimely death provide a window into the entangled histories of the American Revolution of 1776 and the Irish Revolution of 1798. St. George joined the British army to fight against the American rebels in 1776, survived a severe head wound at the Battle of Germantown a year later and again opposed revolution in his native country in 1798, when he was killed by his tenants. This international loan exhibition brings together more than one hundred objects documenting St. George's life and era, including sketches and cartoons he created and paintings he commissioned to record his experiences and emotions over two decades.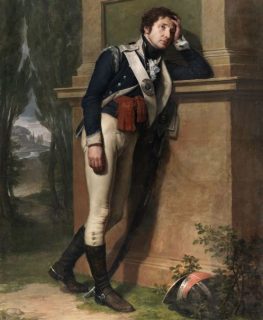 ---
Forgotten Soldier
American Revolution Museum at Yorktown – Yorktown, Va.
June 29, 2019 – March 22, 2020
Discover personal stories of enslaved and free African Americans on both sides of the American Revolution and the difficult choices and risks they faced in Forgotten Soldier. Rare documents and artifacts, interactives and compelling art, including a new contemporary work by nationally acclaimed artist Titus Kaphar, trace the experiences of African American soldiers who took part in the American cause for a free and independent nation or took up arms for British forces in hopes of obtaining their own freedom.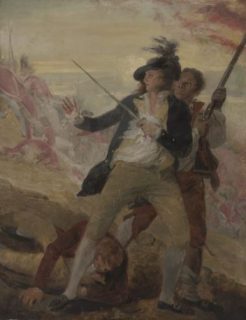 ---
From Maps to Mermaids: Carved Powder Horns in Early America
Fort Pitt Museum – Pittsburgh, Pa.
Ongoing since July 1, 2017
Few objects from colonial America had such a personal connection to their owners as the powder horns used by soldiers, settlers and American Indians to store the gunpowder necessary for their survival. The smooth surface of the horn was also an ideal place for owners and artists to leave their mark, etching names, dates, maps and war records, as well as purely whimsical figures, into the objects. The carved powder horns in this exhibition illuminate the landscapes, wars and politics of early America and particularly its frontier residents.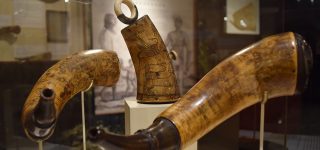 ---
"To Arm Against an Enemy": Weapons of the Revolutionary War
DeWitt Wallace Decorative Arts Museum, Colonial Williamsburg – Williamsburg, Va.
April 20, 2019 – January 2, 2023
The arms used by the combatants on all sides of the French and Indian and Revolutionary Wars were an international jumble of firearms and bladed weapons. These arms take center stage in this exhibition, which features approximately seventy muskets, carbines and rifles, bayonets, pistols and swords used by loyalists, American patriots, Hessians and British "red coats" in battles on land and at sea. "To Arm Against an Enemy" explores the wide variety of weapons used during the Revolution and the progression of military technology that was vital to securing American independence.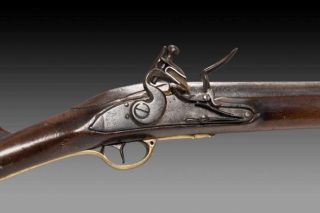 ---
War, Maps, Mystery: Dutch Mapmaker Bernard Romans and the American Revolution
Connecticut Historical Society – Hartford, Conn.
October 25, 2019 – May 2, 2020
Dutch-born mapmaker Bernard Romans was one of the most important mapmakers of the American Revolution. Romans came to the American colonies in 1757 during the French and Indian War, surveying for the British along the Atlantic seaboard. Later, Romans became a supporter of American independence, joined the Continental Army and eventually settled in Wethersfield, Connecticut. In 1780, he was captured by the British and died in 1784, mysteriously, while a prisoner. Both the British and Americans used Romans' maps during the Revolutionary War. This exhibition displays Romans' maps alongside seventeenth- and eighteenth-century maps of Connecticut.