/
Exhibitions at Other Institutions
The enduring importance of the American Revolution is demonstrated by the rich array of materials from the Revolution on display in temporary exhibitions at museums, libraries and other cultural institutions across the country. We encourage you to seek them out.
---
American Democracy: A Great Leap of Faith
Senator John Heinz History Center – Pittsburgh, Pa.
March 13 – October 3, 2021
Revolutionary Americans took a great leap of faith by establishing a new government based on the sovereignty of the people. Power would not be in the hands of a monarchy or a dictator but instead, entrusted to its citizens. Every generation since has faced questions ignited by that revolution while on a quest to form a "more perfect union." The exhibition American Democracy examines the bold experiment to create a government "of the people, by the people, and for the people" and how Pittsburghers and events in Western Pennsylvania history have helped shape our democracy. Developed in partnership with the Smithsonian's National Museum of American History and the Smithsonian Institution Traveling Exhibition Service (SITES), American Democracy uses rare artifacts, engaging interactives and immersive exhibit design to highlight the critical importance of active participation in the American experiment.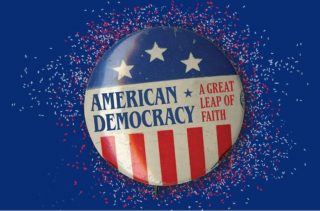 ---
"To Arm Against an Enemy": Weapons of the Revolutionary War
DeWitt Wallace Decorative Arts Museum, Colonial Williamsburg – Williamsburg, Va.
April 20, 2019 – January 2, 2023
The arms used by the combatants on all sides of the French and Indian and Revolutionary Wars were an international jumble of firearms and bladed weapons. These arms take center stage in this exhibition, which features approximately seventy muskets, carbines and rifles, bayonets, pistols and swords used by loyalists, American patriots, Hessians and British "red coats" in battles on land and at sea. "To Arm Against an Enemy" explores the wide variety of weapons used during the Revolution and the progression of military technology that was vital to securing American independence.