/
Exhibitions at Other Institutions
The enduring importance of the American Revolution is demonstrated by the rich array of materials from the Revolution on display in temporary exhibitions at museums, libraries and other cultural institutions across the country. We encourage you to seek them out.
---
Colonists, Citizens, Constitutions: Creating the American Republic
New-York Historical Society – New York, N.Y.
February 28, 2020 – March 7, 2021
America has been singular among nations in fostering a vibrant culture of engagement with constitutional matters and the fundamental principles of government. Featuring forty books and documents from philanthropist Dorothy Tapper Goldman's collection—including constitutions from the federal and state levels—Colonists, Citizens, Constitutions: Creating the American Republic depicts the story of America's unique constitutionalism from the founding era through the turn of the twentieth century. The exhibition, which sketches the often troubled history of the country as it expanded across the continent, serves as a timely reminder of our country's democratic foundations and its relentless quest for improvement.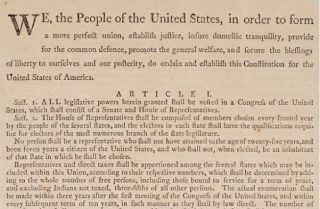 ---
"To Arm Against an Enemy": Weapons of the Revolutionary War
DeWitt Wallace Decorative Arts Museum, Colonial Williamsburg – Williamsburg, Va.
April 20, 2019 – January 2, 2023
The arms used by the combatants on all sides of the French and Indian and Revolutionary Wars were an international jumble of firearms and bladed weapons. These arms take center stage in this exhibition, which features approximately seventy muskets, carbines and rifles, bayonets, pistols and swords used by loyalists, American patriots, Hessians and British "red coats" in battles on land and at sea. "To Arm Against an Enemy" explores the wide variety of weapons used during the Revolution and the progression of military technology that was vital to securing American independence.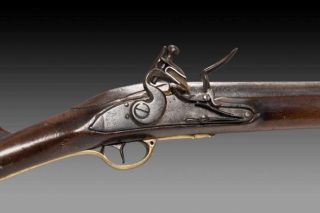 ---
When Women Lost the Vote: A Revolutionary Story, 1776-1807
Museum of the American Revolution – Philadelphia, Pa.
October 2, 2020 – April 25, 2021
For nearly thirty years after the Revolutionary War, women and free people of color legally held the vote in New Jersey. This groundbreaking new exhibition chronicles the little-known history of the nation's first women voters and examines the political conflicts that led to their voting rights being stripped away in 1807. When Women Lost the Vote—which opens during the centennial of the Nineteenth Amendment—explores how the American Revolution shaped women's political opportunities and activism. The exhibition brings to life the forgotten stories of the women who first pioneered the vote through original objects, including several period poll lists that feature the names of women voters.