/
/
Eric Hinderaker Wins the Society of the Cincinnati Prize
Eric Hinderaker Wins the Society of the Cincinnati Prize
December 5, 2018
FOR IMMEDIATE RELEASE:

The American Revolution Institute of the Society of the Cincinnati is pleased to announce that the 2018 Society of the Cincinnati Prize will be presented to Eric Hinderaker, Distinguished Professor of History at the University of Utah, for his book Boston's Massacre, published in 2017 by the Harvard University Press. The prize will be presented at a gala dinner in Professor Hinderaker's honor on December 11, 2018, at Anderson House, the headquarters of the American Revolution Institute of the Society of the Cincinnati.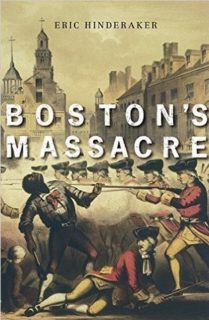 Boston's Massacre is the first major study of that famous event published in nearly fifty years. Reconstructing the events that led to the deadly confrontation of March 5, 1770, he explains how patriots placed the event at the center of a narrative of British tyranny, premeditated violence and indifference to the lives of Britain's colonial subjects—galvanizing resistance to British authority. Professor Hinderaker argues that the conflicts and discrepancies between contemporary accounts make constructing an authoritative narrative of the critical minutes of escalating urban violence impossible, but that what is most important is how the patriots subsequently constructed a narrative of oppression out of the events of those critical minutes. What people believed had happened, he contends, ultimately proved far more important than what occurred.
"Boston's Massacre is one of the most important books on the coming of the Revolution published in the last decade," said Jack Warren, executive director of the American Revolution Institute. "It is also one of the most imaginative and renews interest in an iconic event that shaped American resistance to Britain and hardened the lines between colonists and the British government."
The Society of the Cincinnati Prize is the premier award for scholarship bestowed by the American Revolution Institute of the Society of the Cincinnati. It is presented to the author of an outstanding book that advances understanding of the American Revolution and its legacy. Originally presented triennially, it is now awarded annually.
The prize was made possible by a gift from the family of the late H. Bartholomew Cox and has been presented since 1989. Among previous honorees are Bernard Bailyn, Voyagers to the West (1989), Stanley Elkins and Eric McKitrick, The Age of Federalism (1995), Saul Cornell, The Other Founders (2001), Elizabeth Fenn, Pox Americana (2004), Alan Taylor, The Divided Ground (2007), Matthew Spring, With Zeal and Bayonets Only (2010), and Benjamin Carp, Defiance of the Patriots (2013). The prize winner is selected by a jury including historians and educators appointed by the president general of the Society of the Cincinnati.