/
/
Portrait Miniature of William Henry Bruce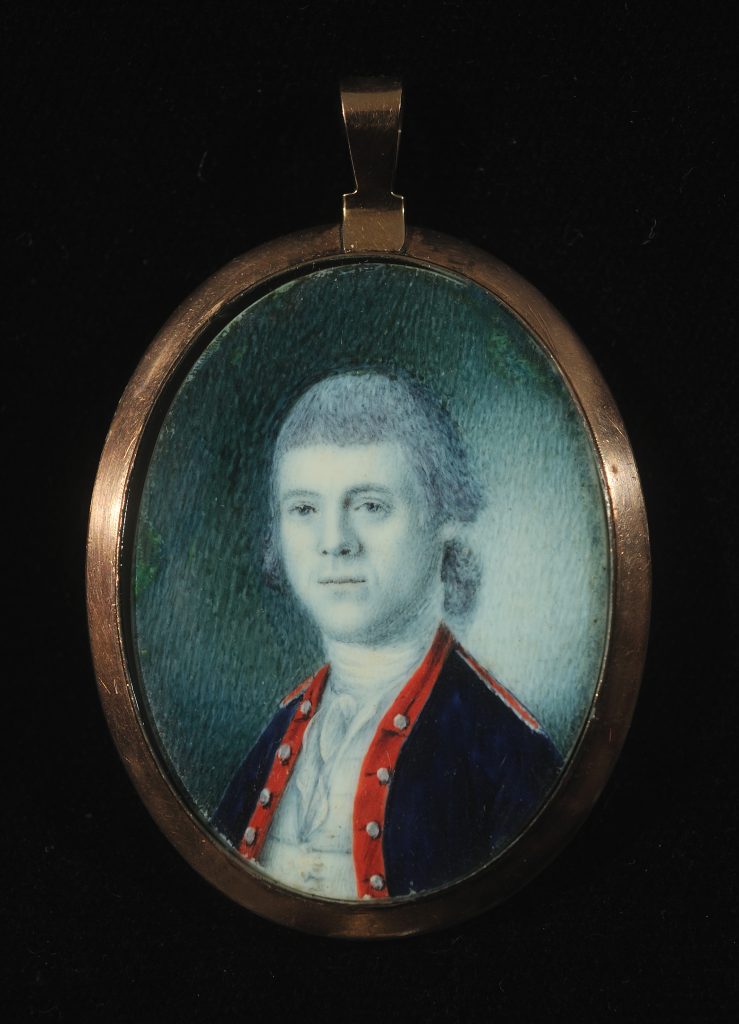 In eighteenth-century America, portrait miniatures were intimate keepsakes intended for the sitters' loved ones. They often marked important milestones in life, including marriage, absence due to war, and death. During the Revolutionary War, officers with the means to pay for a portrait commissioned miniatures of themselves to send to a loved one as a memento of their personal attachment during a dangerous time. William Henry Bruce (1752-1825), who served with the Maryland Continental Line, was one of these officers. His portrait miniature, painted by the American master Charles Willson Peale sometime between 1776 and 1779, was donated in 2010—the fifth portrait miniature by that artist in the museum collections.
Previously unknown to scholars, Bruce's portrait miniature was in family hands until its donation by his great-great-great granddaughter. It had descended in a prominent Maryland family that includes Henry C. Bruce (1801-1842), the captain's son and a member of the Maryland House of Delegates, and Francis Burgess Bruce (1863-1944), the captain's great grandson and a member of the Society of the Cincinnati of Maryland. This miniature is the only known likeness of Captain Bruce.
The portrait miniature depicts a youthful-looking William Henry Bruce in the uniform of an infantry officer in the Maryland Continental Line, with a blue coat with red facings, red epaulets edged in silver lace, silver buttons and a white waistcoat and stock. His face and hair would not originally have had the bluish tone they do today, which is the result of the loss over time of a fugitive red pigment—a characteristic found on numerous other Peale miniatures. Painted in watercolor on a thin oval piece of ivory, the portrait is encased behind glass in a gilt metal pendant, which could have been worn by a woman on a ribbon, strand of pearls or gold chain. The back has woven hair beneath glass—a common feature of eighteenth-century miniatures. The locket and hair reinforce the portrait's intimacy.
William Henry Bruce was about twenty-five years old in this portrait, and he had already been through several years of war. A native of Charles County, Maryland, he enlisted in a company of riflemen raised for the defense of Maryland in January 1776. His first major taste of battle came in August 1776 at Long Island, where the British routed the Americans and would have captured Washington's army except for the heroic stand of the Maryland troops—earning the state its nickname the "Old Line State." Bruce was commissioned a second lieutenant in the heralded First Maryland Regiment in December 1776—two weeks before George Washington's dramatic victories at Trenton and Princeton, in which the Maryland troops played a small role. Bruce also served with his regiment in the battles of Brandywine and Germantown outside Philadelphia in the fall of 1777. In the spring and summer of 1779, he remained in Maryland tasked with recruiting more men for his unit. Shortly after he received a commission as captain in August 1779.
The following summer, Bruce marched south with the Maryland Continental Line to join Maj. Gen. Horatio Gates' southern army in the new theater of the war. He fought in the Battle of Camden, South Carolina, in August 1780—a disastrous defeat for the Americans that all but destroyed the Maryland Line. He spent most of the last years of the war in a detachment of Maryland troops commanded by Maj. Thomas Lancaster Lansdale and stationed on the Hudson River near Newburgh, New York, where Washington maintained his headquarters and the main portion of the Continental Army in 1782 and 1783. Captain Bruce left the Continental Army when it was dissolved in November 1783, after nearly eight years of service. The same month, he joined Maryland's branch of the Society of the Cincinnati, becoming one of 2,200 American and French officers to pledge themselves "to preserve inviolate those exalted rights and liberties of human nature for which they have fought and bled."
Not much is known about William Henry Bruce's life outside of his military service. His parents, Charles and Jane Bruce, had both died by the 1760s when William was still young. He did not marry until 1799, leaving it a mystery to whom he sent this miniature, as William had neither parents nor a wife during the Revolution. Perhaps it was intended for one of his three sisters. When William Henry Bruce died in 1825 at the age of seventy-three, leaving behind his wife and their seven children, the Maryland Gazette lamented, "another soldier of the Revolution gone! … From these trying scenes of hardship, hunger, and bloodshed, he returned to the quietude and duties of private life, and as he had been a brave soldier, so he became an excellent citizen."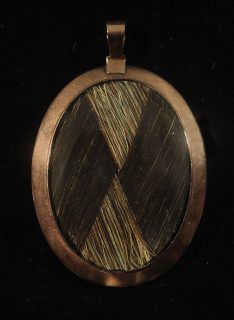 The artist who painted the portrait, Charles Willson Peale, also spent time as a soldier during the Revolution. As a lieutenant, then a captain, in the Philadelphia militia, Peale spent the majority of the period from December 1776 through June 1778 either with his militia company or Washington's main army. He participated in the battles of Trenton and Princeton and was in camp at Valley Forge in early 1778. He most likely painted Bruce's miniature during these years. Peale, who was born on Kent Island outside Annapolis, frequently sought out Maryland Continental troops in the field and may have encountered Captain Bruce on one of those visits. In mid-December 1776 on the campaign to Trenton—the same week Bruce joined the Maryland Line—Peale found the Maryland troops "Scattered thro the Woods in huts made of Rales straw leaves &c. in a Dirty, Raged condition." Peale and Bruce also could have met at Valley Forge, where Peale painted many of his miniatures of soldiers during the war.
Peale was the most important American artist during the Revolutionary War, memorializing the individuals who helped to achieve American independence in portraits large and small. While he is best remembered for his larger oil portraits—especially his depictions of George Washington—he painted more than 130 miniatures during the Revolution, including likenesses of Generals Washington, Henry Knox and Nathanael Greene in uniform. Towards the end of the war, Peale reflected, "I have done more in miniature than in any other manner, because these are more portable and therefore could be kept out of the way of a plundering enemy." But he was not just an accomplished and sought-after artist. Peale apprenticed as a saddle maker, painted shop signs, made shoes and tools and farmed—trades that would have given him a kinship with many of the regular soldiers in the American army.
Peale's Revolutionary War miniatures have an extraordinary life-like quality. He painted them in the field, in a short amount of time—often over several days between his military duties—with fine detail and a muted color palette that created a sense of realism and immediacy. To execute the miniatures away from his studio, he traveled with his "Miniature apparatus," including a supply of ivories, convex glass pieces and metal cases—all usually imported from England. The war interrupted these shipments, forcing Peale to produce some of the materials himself. The fact that the cover glasses on Bruce's miniature were ground on the interior surfaces—a very unusual technique for an English-made glass—may indicate they were made by the artist himself. For a portrait miniature painted in this period, Peale charged from $28 in 1776 to $120 in 1778—an increase in price not due to demand or prestige, but the decrease in value of the Continental dollar. He does not seem to have signed any of his miniatures.
The portrait miniature of William Henry Bruce arrived in our collections showing its age. Several areas of the paint had been damaged by moisture, mold deposits and dirt covered the surface of the painting and woven hair, and the glass pieces were scratched, pitted and abraded. Conservation work undertaken in 2011 treated these issues, revealing Peale's remarkable likeness of a Maryland hero of the Revolution and preserving the image for future generations.
View More Portrait Miniatures