/
Freedom: The Enduring Importance of the American Revolution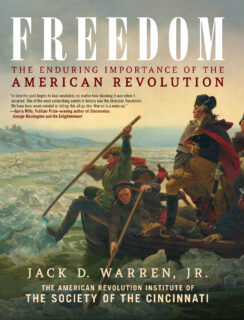 Freedom: The Enduring Importance of the American Revolution
By Jack D. Warren, Jr.
Published by Lyons Press for the American Revolution Institute of the Society of the Cincinnati, Inc.
Forthcoming on October 3, 2023
Hardcover
488 pages
167 color illustrations
$59.95
Pre-Order Now through these retailers
This narrative history of the American War for Independence tells the pivotal story of the courageous men and women who risked their lives to create a new nation based on the idea that government should serve people and protect their freedom. Written for Americans intent on understanding our national origins, but also appropriate for teachers and secondary classrooms, Freedom argues that the American Revolution is the central event in our history: the turning point between our colonial origins and our national experience. This volume includes 167 full-color illustrations of paintings, maps, prints and sculptures held in institutions and private collections in the United States and Europe—including 30 from the library and museum collections of the American Revolution Institute.
The Freedom narrative chronicles the American Revolution's origins in the nature of colonial British America—a society in which freedom was limited and in which everyone was the subject of a distant monarch—through the crisis in the British Empire that followed the French and Indian War, to the events of the War for Independence itself, and ultimately to the creation of the first great republic in modern history. This is the story of how Americans came to fight for their freedom and became a united people, with a shared history and national identity, and how a generation of founders expressed ideals of liberty, equality, natural and civil rights, and responsible citizenship: ideals that have shaped our history and will shape our future—and the future of the world.
Praise for Freedom
"In time the past begins to look inevitable, no matter how shocking it was when it occurred. One of the most astonishing things in history was the American Revolution—unexpected in its causes and conduct, improbable in its outcome and consequences, weird to grotesque in its cast of characters. We have been weak-minded in letting this all go dim. Warren is a wake-up."
— Garry Wills, Pulitzer Prize–winning author of Cincinnatus: George Washington and the Enlightenment
"A must-read for any student of American history. Freedom will soon become the classic account of the Revolution's importance and modern relevance. I cannot recommend this book highly enough."
— David M. Rubenstein, bestselling author of The American Story: Conversations with Master Historians and host of History with David Rubenstein
"With clear and concise prose, as well as brilliant illustrations, maps and reproductions, Jack Warren brilliantly narrates the great story behind the American Revolution, which secured our independence, inaugurated our republican government, created our national identity, and established a new political order based upon equality, rights and responsible citizenship. Based upon deep reading in the original sources, and engaged with the more recent literature, Warren's text should be required reading for all those seeking to understand the sacrifices made by the Revolutionary generation to help launch a nation devoted to freedom. This book is a great antidote to the cynicism of our present historical discourse."
— Douglas Bradburn, president and CEO of George Washington's Mount Vernon
"The complex events that led to creation of the United States had a common underpinning—a desire for freedom. While different people sought different types of freedom, the birth of the American nation came about as a remarkable synthesis of their disparate goals. This walk through four turbulent decades of a nation's founding is centered on those people, their diversity and their common desire, and is aptly named: Freedom."
— Don N. Hagist, editor, Journal of the American Revolution
"Freedom brims with illuminating details about not only how early Americans agitated and fought for their freedom but why. An impressive work of history, Freedom also serves as a critical guide for what it means to be an American citizen today."
— Denver Brunsman, editor of The American Revolution Reader
"Freedom is an essential, desperately needed book. . . . I learned something new on every page (including hundreds of—yes—entertaining and engrossing endnotes) and came away inspired to do my part to preserve our republic for future generations."
— David Duncan, president, American Battlefield Trust
"This beautifully written book is both monumental in scope and sweeping in content. . . . The text is worth much more than the price of admission, as is the treasure trove of illustrations. . . . In brief, highly recommended!"
— James Kirby Martin, author of Insurrection: The American Revolution and Its Meaning
"Well-researched, adroitly written and lavishly illustrated, Freedom is an engaging history of our nation's founding for the twenty-first century."
— Walter Edgar, author of Partisans and Redcoats: The Southern Conflict That Turned the Tide of the American Revolution
"Jack Warren delivers a spirited retelling of the American Revolution, its promise and its enduring relevance for the United States and for our fellow citizens—even for our fellow Americans who may not realize it. Freedom is the story of a generation that created, however imperfectly, the American republic . . . told with passion and a sensitivity to the women and men—native, free, indentured and enslaved—who struggled for their competing hopes, dreams and ideals as allies and just as often as enemies."
— Ricardo A. Herrera, author of Feeding Washington's Army: Surviving the Valley Forge Winter of 1778
About the Author
Jack D. Warren, Jr., is a native of Washington, D.C., whose work focuses on the enduring achievements of the American Revolution. He served on the faculty of the University of Virginia, where he was an editor of The Papers of George Washington. He was subsequently executive director of The Society of the Cincinnati and the founding director of its American Revolution Institute. His books include The Presidency of George Washington (The Mount Vernon Ladies' Association, 2000) and America's First Veterans (The American Revolution Institute of the Society of the Cincinnati, 2020). He and his wife, Janet, live in Alexandria, Virginia.