/
Two Prints of Marion Crossing the Peede
These two prints based on William Tylee Ranney's painting Marion Crossing the Peede offer an instructive comparison of very different methods of reproducing Revolutionary War art for very different audiences. Ranney exhibited Marion Crossing the Peede at the American Art-Union in 1851. The organization promptly commissioned Charles K. Burt to engrave the image on a steel plate to produce a faithful, detailed reproductive print, which was distributed to the members of the organization. The print is 17.1 by 13.6 inches—a modest size—but takes advantage of the capacity of the steel plate to depict fine details on a small scale. Notice that the engraver has skillfully reproduced the reflections in the water beside the boat. No record of the the size of the edition printed from Burt's plate is known, but the print run was probably in the hundreds.

Marion Crossing the Peede, steel engraving by Charles Kennedy Burt, New York: American Art-Union, 1851), Gilcrease Museum.
The second of the two prints of Marion is a lithograph produced and sold by Currier & Ives in the 1870s. The firm advertised its products as "colored engravings for the people." Currier & Ives produced millions of lithographs for the popular market between 1835 and 1907. Thousands of prints might be pulled from a single etched stone. They were usually hand colored. A print of this size (about 18 by 13 inches) sold for about twenty cents in the 1870s. The lithographer took considerable liberties with the composition, simplifying the background and eliminating several background figures. The remaining figures are far more crowded than in Ranney's painting or in the American Art-Union steel engraving.  Far more people saw this version of Ranney's painting than saw the original or the engraving.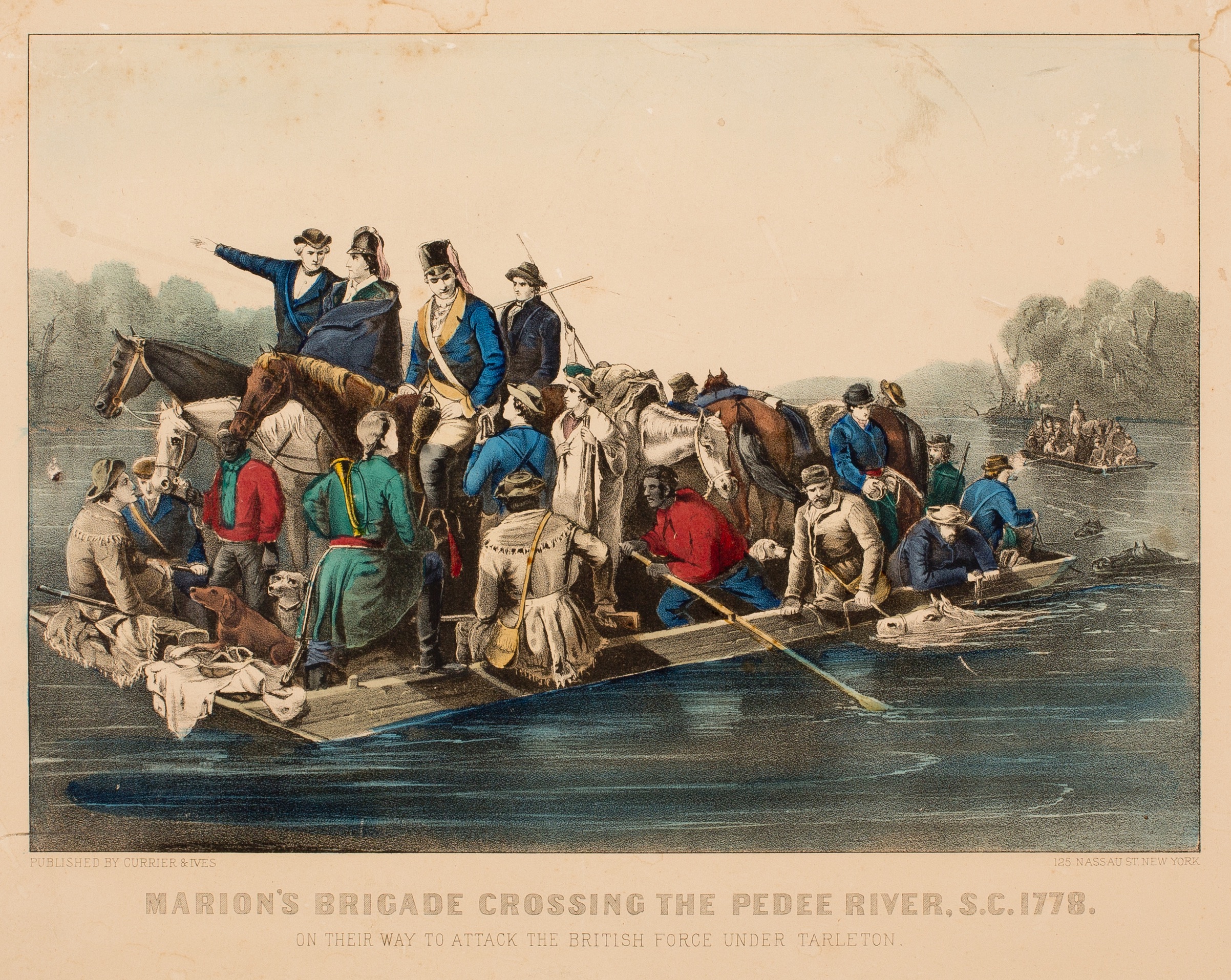 Marion's Brigade Crossing the Peedee River, S.C. 1778, lithograph, New York: Currier & Ives, no date [ca. 1872-1876], American Antiquarian Society.