/
/
Author's Talk – Dark Voyage: An American Privateer's War on Britain's African Slave Trade

Author's Talk – Dark Voyage: An American Privateer's War on Britain's African Slave Trade
September 22, 2022 @ 6:30 pm

-

8:30 pm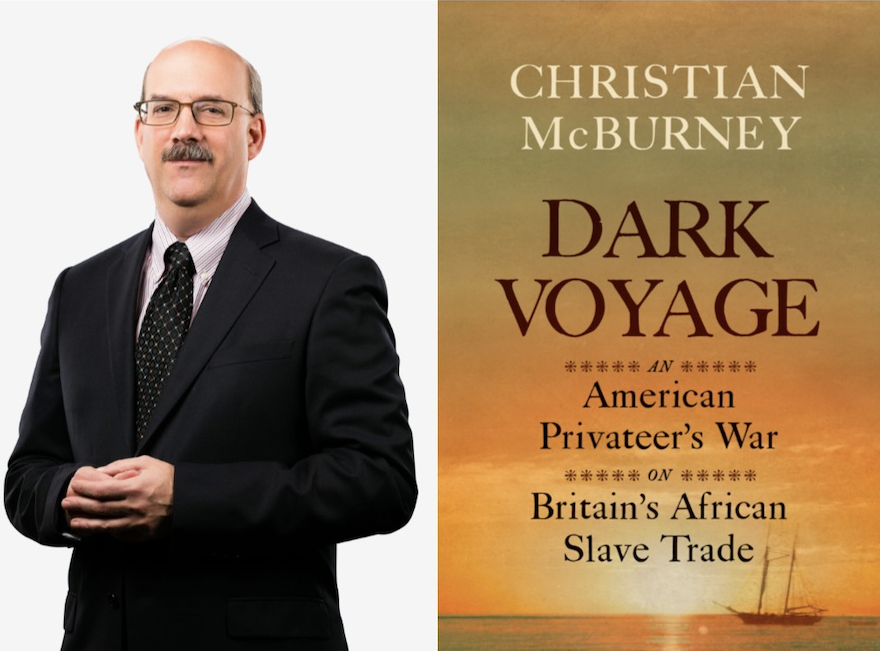 Historian Christian McBurney discusses the harrowing voyage of the Marlborough, an American privateer vessel that sailed across the Atlantic to attack British slave trading posts and ships on the coast of West Africa during the Revolutionary War. His new ground-breaking book is the first to explore the efforts of the Marlborough's officers and crew, along with other American privateers that targeted British slave ships, fostering a better understanding of the Atlantic slave trade during the Revolution and the role American privateers played in diminishing Britain's slave trading enterprise.
The talk will last approximately 45 minutes, followed by a book signing. Copies of the book will be available to purchase at the event.
Registration is requested. To attend the author's talk in-person at Anderson House, or to watch virtually, please use the appropriate form below.
Currently, all visitors to Anderson House age 2 and older are required to wear a mask while attending a historical program or visiting the museum or library. Read our full COVID safety guidelines here.
About the Speaker
Christian McBurney is president of the George Washington American Revolution Round Table of the District of Columbia and manages the online journal, Small State, Big History, devoted to the history of Rhode Island. McBurney has authored six books on the American Revolutionary War, which include George Washington's Nemesis: The Outrageous Treason and Unfair Court-Martial of Major General Charles Lee during the Revolutionary War (Savas Beatie, 2020); Kidnapping the Enemy: The Special Operations to Capture Generals Charles Lee and Richard Prescott (Westholme Publishing, 2013); and The Rhode Island Campaign: The First French and American Operation in the Revolutionary War (Westholme Publishing, 2011). Additionally, he is the author of many articles on American Revolution history, including "The American Revolution Sees the First Efforts to Limit the African Slave Trade," published in Journal of the American Revolution, Annual Volume 2021 (Westholme Publishing, 2021).
Click here to attend the author's talk virtually
Tickets are not available as this event has passed.