Event Navigation
Art in Bloom DC 2023
March 27, 2023 @ 12:00 pm

-

March 30, 2023 @ 4:00 pm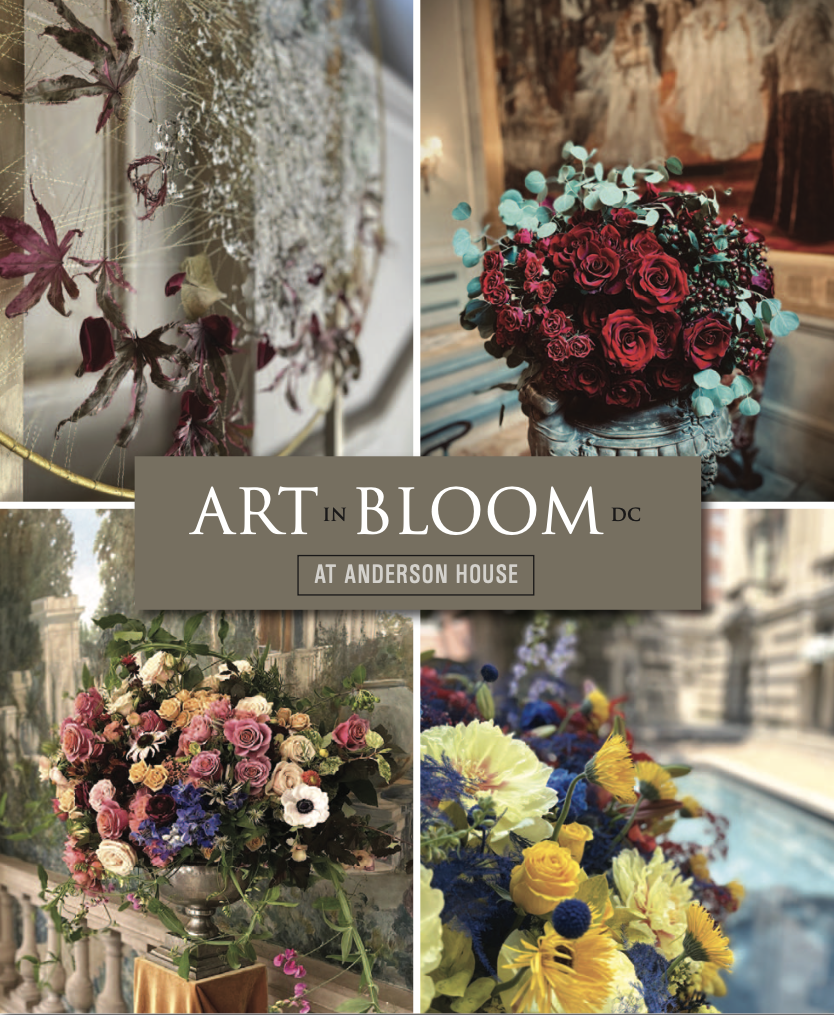 Back by popular demand, Art in Bloom DC returns to Anderson House on March 27-30, 2023! This popular event fills our historic headquarters with dozens of floral arrangements inspired by the art and architecture of Anderson House. Art in Bloom provides a unique opportunity in the nation's capital to stroll through the museum at your own pace, viewing interpretations of specific artworks, furnishings and architectural details rendered in a floral medium by some of Washington's most creative and innovative floral designs.
Anderson House is the exclusive venue for Art in Bloom DC, now in its third year. For 2023, we have extended the event to four days and will reprise the popular evening reception celebrating the talented florists and exquisite setting that make Art in Bloom DC such a special event. Art in Bloom DC is co-produced by the Institute, Margo Fischer of Bright Occasions, and Ashley Greer of Atelier Ashley Flowers.
For more information on Art in Bloom DC and to see photos of past floral installations, visit http://www.artinbloomdc.com.
Public Viewing: Monday, March 27 – Thursday, March 30 | Free Admission
Monday, March 27 from 12 p.m.—4 p.m.
Tuesday, March 28 from 10 a.m.—4 p.m.
Wednesday, March 29 from 10 a.m.—4 p.m.
Thursday, March 30 from 10 a.m.—4 p.m.
During this limited four-day event, visitors can explore the floral installations and tour the museum during special public viewing hours. Our expert museum docents will be on hand to discuss the history of Anderson House, the collections, and the Society of the Cincinnati and its American Revolution Institute. Guests will also have special access to the garden, which is not normally open to the public. Admission during public viewing is free of charge, and no reservations are necessary.
Special Reception: Monday, March 27, 6-8 P.M.
$35.00 General Public | $25.00 Society of the Cincinnati Members & ARI Associates
Join us for a special reception celebrating the floral sculptures of Art in Bloom DC 2023 with the premier florists who created the displays. Guests will have the unique opportunity to explore the installations, meet the floral artists and discuss the inspirations behind their work while enjoying hors d'oeuvres and refreshments from our reception sponsor, Spilled Milk Catering.
Demo Sessions: Tuesday, March 28-Thursday, March 30
New for 2023, Art in Bloom DC features special ticketed demo sessions with some of our featured floral designers. Registration is required for each demo session.
Tuesday, March 28 at 1:30 p.m. — Smudge Stick Lab with BLK FLWR MRKT
Join Kehmari Norman of BLK FLWR MRKT, an independent and mobile flower market, to create a custom floral smudge stick, a smoke wand made for aromatherapy and cleansing rituals. Attendees of this lab will learn the history of smudging and the cultural significance of flowers, while writing affirmations and engaging in sensory activities. Prepare to be blindfolded! Tickets for this demo session are $36.00 per person.
Wednesday, March 29 at 2:00 p.m. — Vaudeville and Puppetry from the Mid-19th Century with La Fleur du Jour
Join the owner of La Fleur du Jour to learn about the history of the Vaudeville shows of the mid-19th century and marionette puppetry. Tickets for this demo session are $36.00 per person.
Thursday, March 30 at 11:00 a.m. — Garden of Garlands with Sarah Khan Event Styling
Join Sarah Khan of Sarah Khan Event Styling and learn how to make fresh floral garlands using different plant material, flowers, buds and blooms through the mechanics, tools, tips and tricks from Southeast Asia. Tickets for this demo session are $45.00 per person.
Thursday, March 30 at 1:00 p.m. — The Magic of Everyday Flowers with Atelier Ashley Flowers
Join Ashley Greer of Atelier Ashley Flowers for an informative lecture on the magical meanings and healing properties of flowers in everyday life. Ashley will demonstrate how to design her "March Magic" bouquet while discussing some of her favorite floral ingredients and how they can be used to bring positive energy into the home. This demo session is free to attend, but registration is required.