Author's Talk – 1774: The Long Year of Revolution
March 5, 2020 @ 6:30 pm

-

7:30 pm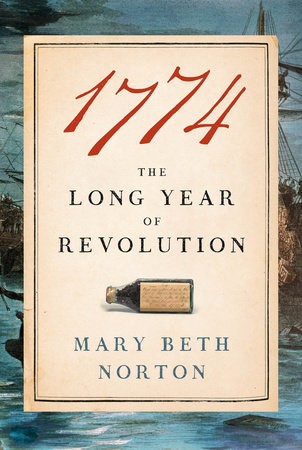 Historian Mary Beth Norton of Cornell University, discusses and signs copies of her new book analyzing the revolutionary change that took place between December 1773 and April 1775—from the Boston Tea Party and the first Continental Congress to the Battles of Lexington and Concord. Drawing extensively on pamphlets, newspapers and personal correspondence, Dr. Norton reconstructs colonial political discourse as it happened, showing the vigorous campaign mounted by conservatives criticizing congressional actions. But by then it was too late. In early 1775, governors throughout the colonies informed colonial officials in London that they were unable to thwart the increasing power of the committees and their allied provincial congresses. Although the Declaration of Independence would not be formally adopted until July 1776, Americans, even before the outbreak of war in April 1775, had in effect "declared independence" by obeying the decrees of their new provincial governments rather than colonial officials. Held on the 250th anniversary of the Boston Massacre, this event examines the imperial discord that led from resistance to revolution.
The talk will last approximately 45 minutes, followed by a book signing and refreshments. Copies of the book will be available to purchase at the event. Registration is required for this free event.
About the Speaker
Mary Beth Norton is the Mary Donlon Alger Professor Emerita of American History at Cornell University. She specializes in the American Revolution, colonial America, early American women and gender and the Salem witch trials. Dr. Norton is the author of five books and co-editor of several others. In 1997, her book Founding Mothers and Fathers was a finalist for the Pulitzer Prize. She served as president of the American Historical Association in 2018. She received her M.A and Ph.D. from Harvard University and a B.A. from the University of Michigan.
Tickets are not available as this event has passed.