Event Navigation
Lunch Bite – Society of the Cincinnati Eagles of the Twentieth Century
May 19, 2023 @ 12:30 pm

-

1:00 pm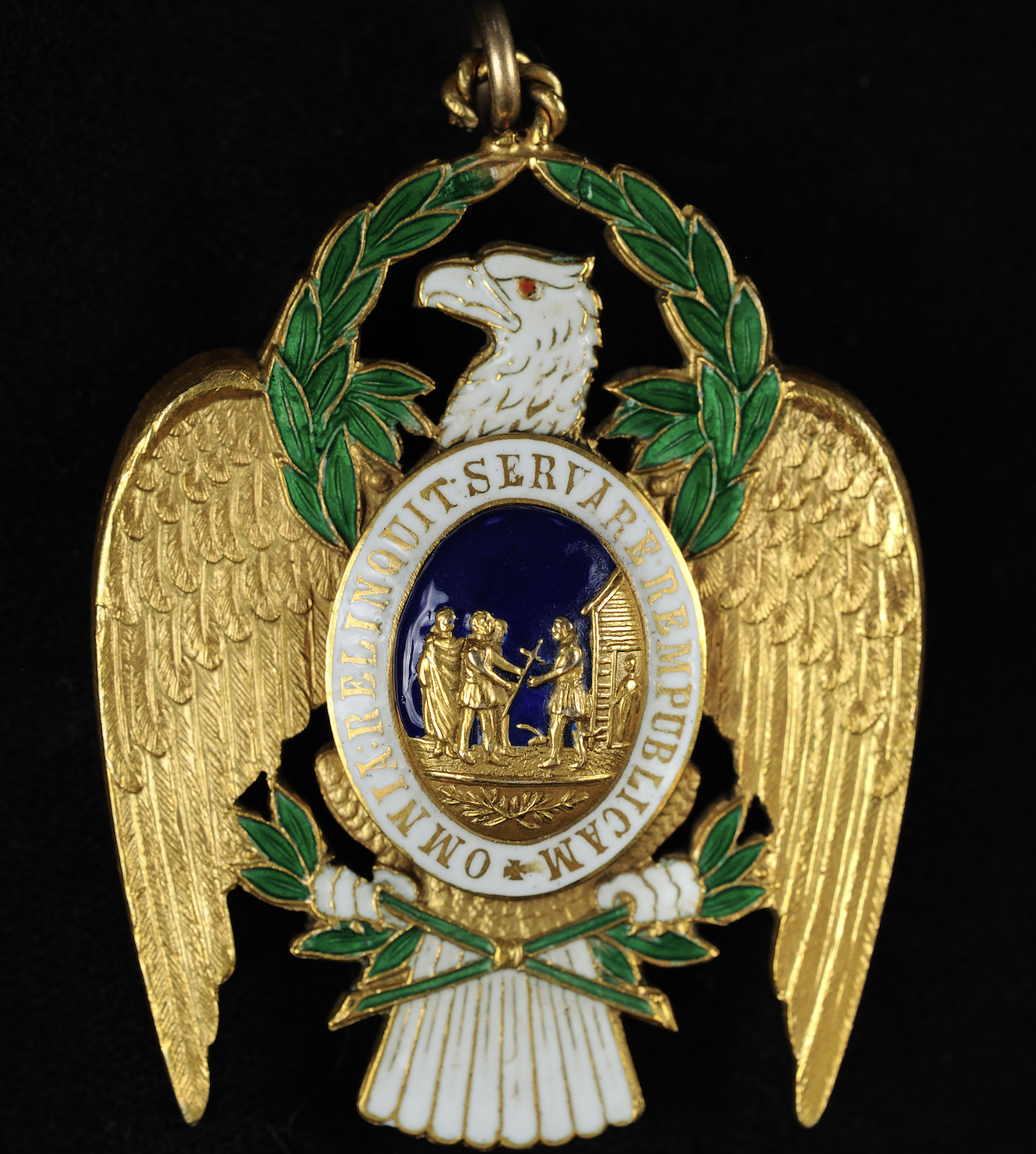 Join the Institute's deputy director and curator, Emily Parsons, for a Lunch Bite object talk focusing on Society of the Cincinnati Eagles of the twentieth century. The Eagle insignia of the Society of the Cincinnati is one of the most historic American medals and has been worn by members at meetings, dinners, ceremonies, and other events for more than two hundred years. Designed in 1783 by Pierre-Charles L'Enfant—a French-born artist, Continental Army officer, and original member of the Society—the Society's insignia, known as the Eagle, is a double-sided medal in the shape of an American bald eagle suspended from a light blue-and-white ribbon—the latter representing the alliance of France and the United States that helped to win American independence. With its downturned wings and olive branches in its talons, the Society Eagle emphasizes the founding of a peaceful American republic and the return of its soldiers to their civilian lives.
Beginning in 1784 when the first Society Eagles were made, more than twenty different craftsmen and firms have produced variations of the iconic insignia. In the twentieth century, this proliferation continued, with new variations on L'Enfant's design produced in the United States and France by makers such as Tiffany and Company, Bailey Banks & Biddle, and Arthus Bertrand. The twentieth century began with an effort by Society leaders to standardize the Eagle into a single, broadly accepted design, but the commissioning of other variations by individual state societies continued. While the Eagle is traditionally made of gold, several versions were produced in silver gilt in the mid-twentieth century—a short-lived innovation that, while less expensive, was not as popular as manufacturers expected. This Lunch Bite explores the various types of the Society insignia produced in the twentieth century and some of the famous men who have worn them, including Harry Truman, Winston Churchill, and Ronald Reagan.
This program accompanies our current exhibition, Affairs of State: 118 Years of Diplomacy and Entertaining at Anderson House, on view through December 31.
Registration is requested. To attend the Lunch Bite in-person at Anderson House, or to watch virtually, please use the appropriate form below.
Register to Attend the Lunch Bite at Anderson House
Register to Attend the Lunch Bite Virtually